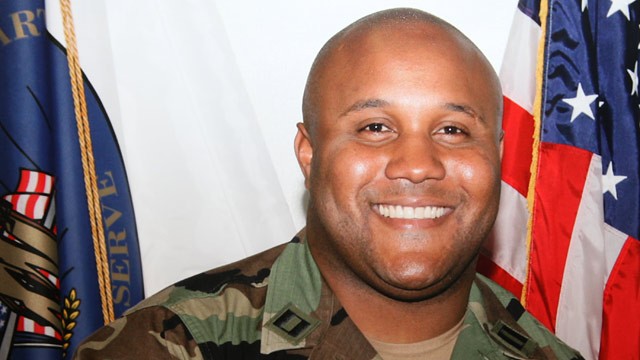 As one of my tweeter fam said, it's the
"state of the Dorner coverage"
on the news tonight. Sorry Mr. President, but this is like a real live Hollywood movie playing
itself out in SoCal.
I know that a lot of my cousins are cheering for Dorner because dude is getting Robin Hood love from certain quarters, but I hope that these folks remember that he started his killing spree by killing a brotha.
I am pretty sure that this will not end well. This guy doesn't strike me as someone who wants to be taken alive, and I am pretty sure that the cops out in SoCal are going to make damn sure that he isn't. (Another one of their brothers just died)
There are certainly a lot of interesting developments around this. CNN and other news outlets are telling folks to stay off twitter and other social media outlets.
(Yeah right. I will be on my iPad as soon as I finish this post and I will be tweeting my ass off as this thing plays itself out.)
The LAPD is reporting that they have resources available to them and they will be ready to use them as soon as the local police departments ask for their assistance.
(MOVE anyone?
)
It's sad that it took this dude snapping to have this conversation again about corrupt police departments and the folks who run them, but the scrutiny is always needed. Especially on those boys in blue out in Los Angeles. I mean they do
have a history.
Now we have to ask ourselves, how many more Christopher Dorner's are out there?
Anyway, I am watching CNN now as it starts to get dark out West. This real live drama will be better than any fiction on television tonight. And if his
Oness
was hoping for a captive nation to listen to his address he better hope that this thing ends before nine o-clock.
One person who we know will be listening is Ted Nugent. Ted, of course, like a certain ex LAPD cop, loves his guns.
"National Rifle Association board member and conservative columnist Ted Nugent reportedly said that a Democratic congressman who criticized Nugent's invitation to the State of the Union and was paralyzed in a firearms accident has "s**t for brains."
Nugent's comments are hardly surprising given his
long record of offensive invective
.
Rep. Jim Langevin (D-RI)
has urged
more than two dozen lawmakers to invite survivors of gun violence as their guests to the State of the Union.
Langevin has personal experience with gun safety. As ABC News
reported
:
As a 16-year-old, Langevin was critically injured while working with the Warwick Police Department in the Boy Scout Explorer program. A veteran officer handling a .45-caliber semiautomatic pistol, not realizing a round rested in the chamber, pulled the trigger, bouncing a bullet off a metal locker and striking the teenager in the neck, severing his spinal cord.
After a Republican congressman
responded
by inviting Nugent to attend as his own guest, Langevin
reportedly criticized
the invitation, citing Nugent's history of violent rhetoric. At a February 12 press conference, Nugent
reportedly responded
as follows:
"He probably has s**t for brains," he said of Langevin.

[..]

"I couldn't be more proud of myself, what I stand for, and for this pompous ass to claim that he cares more about a family that lost a child than I do is a perfect example of the brain dead critics of Ted Nugent," he said."
Last week, Nugent
said
that President Obama is "promoting" racism and that his administration has a "racist agenda." [Source]
I take that back. Maybe the State of the Union address
will
be worth watching.