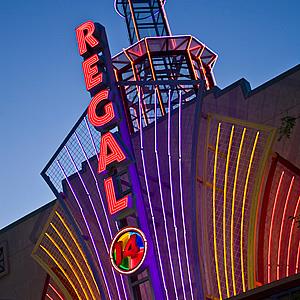 Oh lawd! If Negroes who are going to see
"The Butler"
of all movies are
getting profiled
, we have a serious problem here in America.
"The new Civil Rights drama
Lee Daniels' The Butler
is a smash hit, but according to some Regal Cinemas patrons in Silver Spring, Maryland, the theater's security for the film was a colossal bomb.
A Twitter user named Tiffany Flowers
reported that patrons
of the Silver Spring Regal Cinemas had their tickets to The Butler checked twice, and were greeted in the theater by armed policemen. Managers at the theater have been directed not to comment, referring media inquiries to a phone number that's unmanned on weekends, but Washington ABC affiliate WJLA
will air a report on the story
this evening."
Of course, as is always the case, there was the corporate double speak.
"Russ Nunley, a spokesman for Regal Cinemas, emailed theGrio the following statement Sunday afternoon:
'Regal Entertainment Group routinely employs security personnel to ensure the safety all of our guests and staff. When a theatre experiences sold out showings of any feature, security will assist with crowd control and guest assistance throughout the facility, including auditoriums."
This weekend our Majestic theatre experienced a tremendous guest response to the feature the 'Lee Daniels' The Butler' such that additional showtimes were added to meet our guests demands.
At no time did local management receive any guest complaints or concerns about our security or staff, who worked diligently to meet all of our guests needs.
To the extent any guests were dissapointed with their experience, we welcome the opportunity to address their concerns and provide them the best entertainment experience possible in their future visits to our theatres.[sic]'" [Source]
I call bull s**t. (This is the same company that tried to stiff
their employees
because of the passing of the
ACA
.)
And it's not like we are talking about a movie like
New Jack City
or
Juice,
here.
This is hardly the type of movie that would attract a large crowd of rowdy "young bucks".
But hey, you never know, some nut could get a gun and just start killing people in the theater....
Wait
.....Never mind.
Finally, in spite of some obstacles along the way, the republican party is still trying to reach out to minorities and become the "party of Lincoln" again. Unfortunately, though, there is a problem;
actual republicans
.
Oh well, hopefully they will get their act together soon and start giving us some real ideas that can add to the political debate and give us some solid ideas from their perspective that can help us move forward as a country.
I know that it's a long shot, but a man can dream.