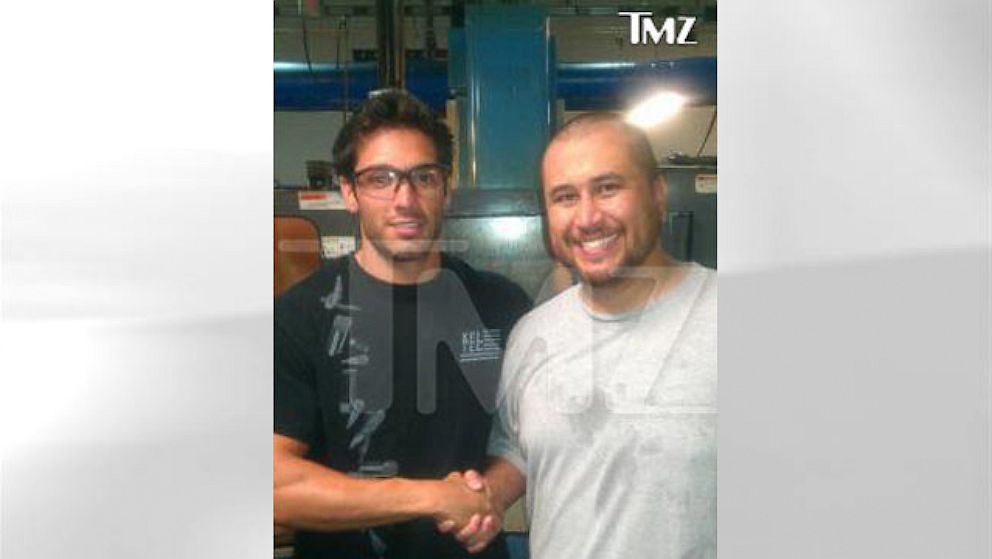 You Negroes in Florida better stay in your houses for the next few days.
George Zimmerman
just went gun shopping and he is getting his hands on an even more deadly killing machine than the one he used to kill young Trayvon Martin.
"George Zimmerman who is already packing a pistol, toured a gun maker's factory this week and asked whether he could buy a shotgun.
Zimmerman, acquitted a month ago of killing teenager Trayvon Martin with a Kel-Tec 9 mm pistol, toured the Kel-Tec plant on Thursday in Cocoa, Fla. The plant is about an hour's drive from Sanford, the community where Martin was killed.
Zimmerman, 29, took a tour of the assembly plant and asked about the legality of buying a shotgun and smiled in a photograph with an employee, according to
TMZ
, which first reported the visit.
Representatives for Kel-Tec were not immediately available for comment, but the Kel-Tec web site says weapons are not sold at the plant. The site also states that they do not give tours, but that "Special arrangements can sometimes be made for Military, Law enforcement, or Educational purposes only."
[Source]
Remember when his lawyer said that George would have to go in hiding and is in fear of his life? Well I hate to say this about a fellow officer of the court, but he lied.
Still, if George wants to just get away from it all and hang out with some like minded people, he might want to head to a little town called
Cobsville.
I hear it's nice up there this time of year.
"A neo-Nazi activist has made public his plans to take over a small North Dakota town and turn it into a paradise for white supremacists seeking refuge from "Mexican illegal invaders" and "leftist journalists."
According to the
Hatewatch blog
, a 61-year-old man named Craig Cobb has bought plots of land in Leith, N.D., a town of only 19 residents (only one of whom is black). Upon moving into the town, Cobb has invited other like-minded people to move in with him and help turn the town into a white supremacist haven he would like to name "Cobbsville."
"I didn't have a clue who the guy was until he showed up," Leith's current mayor Ryan Schock
told the blog
. "All I know is he bought that house sight unseen, $5,000 cash, and had no idea what it looked like, where it was, other than he knew the directions to get to Leith."
Cobb
wrote last year
that anyone who moves onto his Leith property would be "required" to fly a "racialist banner," such as the Nazi flag, at all times. He also asks that any new residents "import more responsible radical hard core [white nationalists]" and register to vote in the state so they can change local politics.
"Imagine strolling over to your neighbors to discuss world politics with nearly all like-minded volk,"
he wrote
. "Imagine the international publicity and usefulness to our cause! For starters, we could declare a Mexican illegal invaders and Israeli Mossad/IDF spies no-go zone. If leftist journalists or antis come and try to make trouble, they just might break one of our local ordinances and would have to be arrested by our town constable."
To that end, Cobb has constructed a concrete prison, where he would like to lock up "recalcitrant journalists and lefty commies who violate the codes or peace of the community." [Source]
I bet they don't even have a Starbucks.
Finally, if you are heading to D.C. for
the big march
tomorrow, remember to wear some comfortable shoes.