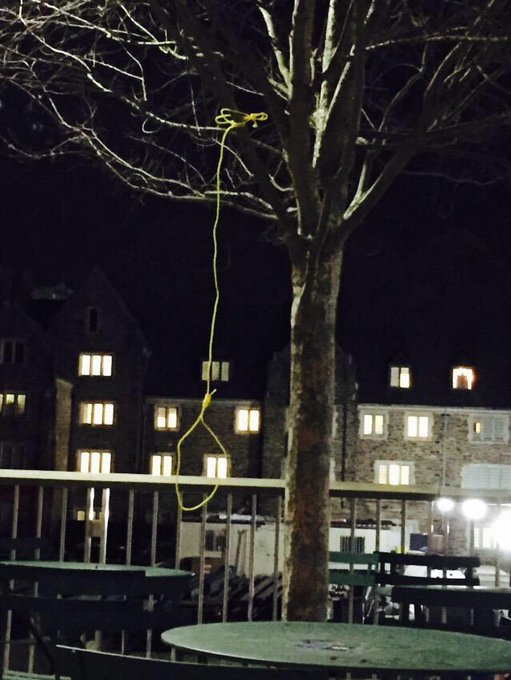 I am glad that the
Dukie
who thought that it would be cool to
hang a noose
on a tree on campus was exposed. I mean how dumb can this guy be? He is possibly throwing away a first rate education because he ...I don't know, thought it would be cool to troll black folks. *shaking head*
Oh well, maybe he can go and join
these guys
now.
But a story about one ignorant misguided student pales in comparison to what has taken place on another university campus on the other side of the world.
Sadly, it probably won't get as much attention here in America. But I would like to remind everyone that there was a horrific terrorist attack in
Africa today
. One hundred and forty seven innocent people killed.
I can't imagine the unspeakable pain that these poor people must be going through.
These animals masquerading as human beings slaughtered innocent college students who never saw it coming. Everyone of them had a name and a loved one who will miss them more than words can ever describe.
But hey, it wasn't in America, or Western Europe for that matter, so we will not hear about it over and over again on our cable news stations. Imagine, for a second, that such an act had taken place on the campus of the aforementioned Duke University.
Honestly, I need some of you Negroes to realize that it is not only American black lives that matter. Black lives in Africa matter as well.This story isn't trending like it should on
black twitter
because, sadly, many of you automatically tune out stories when it doesn't involve America.
"The massacre that killed 147 people and wounded scores of others at a Kenyan university lasted for hours Thursday before the terror was over.
The death toll is the highest in a terror attack on Kenyan soil since the U.S. Embassy was bombed in 1998. More than 200 people died in the Nairobi blast"
Mr. Nkaissery , it is not only a "sad day" for Kenyans; it is a "sad day" for everyone of us in the diaspora, and human beings everywhere.