So black folks are
tripping out
after hearing that Paula Deen is a racist.
"What? Paula Dean is a racist? Nooo, not Paula."
Yes, Paula. You Negroes should learn from this. Never assume that you know someone.
"Paula, you disappointed me. You used to channel my black southern grandma so well. I almost believed you were one of us!"
Oh stop it! Charming Paula, the Southern Belle, was in the kitchen cooking up some wholesome American Southern food while dropping the
N-word
and planning slavery
themed weddings
.
Still, to be fair to Paula, she was an equal opportunity hater, and she hated Jews and rednecks as well. It all just goes to show you how far a little talent can go in hiding the demons that lurk within some people.
Paula, let this be a lesson to you: Always settle those lawsuits. You never know what will come out in a trial.
"Deen cited a restaurant she had visited: "The whole entire waiter staff was middle-aged black men, and they had on beautiful white jackets with a black bow tie...I mean, it was really impressive. That restaurant represented a certain era in America…after the Civil War, during the Civil War, before the Civil War…It was not only black men, it was black women…I would say they were slaves." [Source]
I would say that you were born about 100 years too late.
Are you all following this Aaron
Hernandez story?
This is crazy. I sure hope that we don't have another O.J., or
Rae Carruth
story on our hands, but it's not looking good for the Patriot's tight end. Apparently Aaron likes
his guns.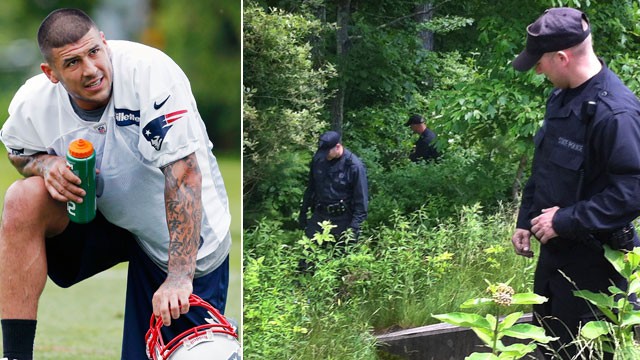 "Police plan to go back to the home of New England Patriot's tight end
Aaron Hernandez
today with another warrant based on evidence that "he destroyed his home security system,'' an investigator close to the case told ABC News.
The investigator, and other law enforcement sources, confirmed that the security system - which included video surveillance - was smashed intentionally.
And a cell phone used by Hernandez was handed over to investigators "in pieces'' by his attorneys, the sources said.
Police also want to know why a team of house cleaners were hired on Monday to scrub Hernandez's mansion, sources told ABC News.
The revelations come as multiple sources tell ABC News that the star NFL player has not been ruled out as a suspect in the murder of a semi-pro football player Odin Lloyd, 27, who was Hernandez's friend.
Hernandez has been at the center of the investigation since Lloyd's body was found shot in the back of the head in a scrubby clearing of an industrial park roughly a mile from the Patriots star's million-dollar mansion in North Attleborough Monday." [Source]
Calling
Nancy Grace
in 5...4...3...2...