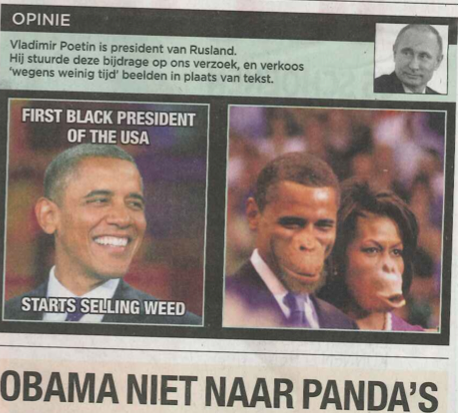 Those poor Obamas, between conservatives and Belgium newspaper editors they just can't get away from the
ape
references.
Honestly,
Donald Rumsfeld
should know better than referring to an
ape
when comparing the first black president to something. It's sad, really, you would think that we can do better than that in this country.
Rumsfeld is a man of some stature. He is not some ignorant redneck posting anonymously on the Internet from his mother's basement.
Understandably, black folks are upset:
"I'm not sure what's more exhausting: The invocation of primates when discussing Black people, much less the first Black man to be elected president of the United States, or the people who pretend not to know the racist implications behind the comparison.
Now begs the question whether former Secretary of Defense Donald Rumsfeld will follow suit.
In an interview with FOX News' Greta Van Susteren on Monday, Rumsfeld offered a harsh critique of President Obama's diplomatic dealings with Afghan President Hamid Karzai. Rumsfeld went as far as to say he doesn't fault the Afghans for supporting Vladimir Putin.
Rumsfeld
explained
:
By golly they have trashed Karzai publicly over and over and over. I really think it's understandable given the terrible, terrible diplomacy that the United States has conducted with Afghanistan over the past several years."
Then came the unfortunate inclusion of ape talk:
A trained ape could get a status of forces agreement. It doesn't take a genius.
Rumsfeld is referring to the extension of a 2003 agreement that recognizes the American military presence.
As of now, Donald Rumsfeld has yet to apologize to President Obama for comparing him to an ape. I'm not sure that walking, blabbering example of curmudgeonliness will say he's sorry, though he certainly should." [Source]
And then there are the folks over in Belgium:
"A Belgian newspaper
is under fire
for an image it printed showing President Barack Obama and the First Lady as apes.
The progressive newspaper De Morgen
is being accused of racism
for the image along with an article it published just prior to
Obama's visit to the Netherlands
Monday morning.
The image clearly depicts the couple as two apes-- an editorial decision that has been slammed as "
stale racist drivel
." [Source]
Oh my, racist "progressives"? Who knew? Anyway, some folks from
De Morgen
will be sending out feelers to FOX Views, soon. Because you can never have enough racists in the cable news business.