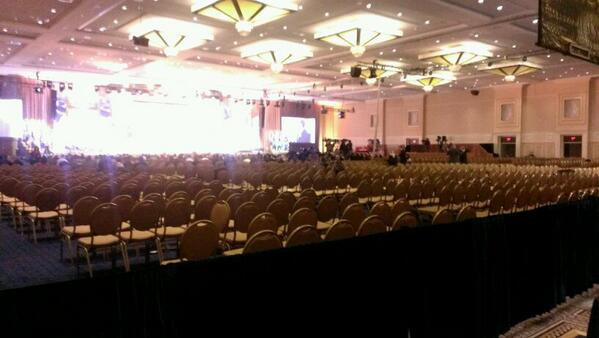 I would have tried to make it down to
CPAC
this year, but unfortunately, once again, I did not get an invitation in the mail.
Judging from this picture from the minority outreach panel discussion that they had down there, they probably should have sent me one.
Let's face it, these CPAC folks are
just scary
to Negroes.
Anyway, enough of the guns and god crowd, tonight my racism chase takes me to Arkansas, where a sitting judge got himself in some hot water for some negative comments he made about Charlize Theron and her cute little African accessory, and about blacks, Gays, and women.
"An Arkansas judge has confessed to leaking confidential details about Charlize Theron adopting a son from South Africa in a series of online comments.
Mike Maggio, 52, admitted Wedsnesday [sic] he was behind the anonymous profile "geauxjudge" which posted notes about the case on the Louisiana State University fan message board.
In other racist and sexist posts, the Circuit Judge equated gay and transgender sex to bestiality - and said women needed to take care of a man's two basic needs of sex and food.


He also wrote about the effect a person's name has on their chances of success.
"How many Doctors do you hear named Dr. Taneesha or HaHa?" he wrote, apparently referring to black University of Alabama football player Ha'Sean 'Ha Ha' Clinton-Dix." [Source]


Sounds like a really great guy. And folks wonder why black folks never feel like they can get a fair shake in the judicial system.




But not to worry, here comes the obligatory apology in 5...4...3...2...




....."I take full responsibility for the comments that have been attributed to me," the father-of-five said in a statement.


"I apologize deeply for my lapse in personal judgment and I have no excuse. The comments posted were not acceptable. These comments are not a reflection of who I am,..."