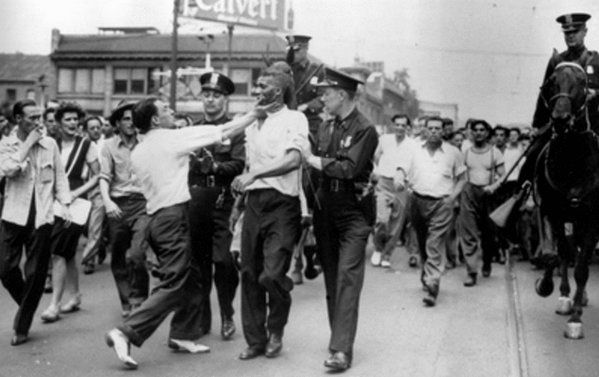 Justin Beiber
telling
racist jokes
(I bet Usher is sorry that he helped to make this clown)
,Donald Sterling's jump- off who
outed
him, has her own video dissing
black folks
. And while one of our icons lay dying, a 911 operator is caught
dissing another black icon
because of
her
concerns about racism.
With all of this ignorance surrounding race in our country, you would think that a teacher trying to teach his class about the roots of racism and this country's history when it comes to the subject would be welcome subject in his class -room. You would be wrong.
I give you the sad case of
Alan Barron
:
"A community is outraged after a Michigan public school teacher was removed from the classroom for showing a video of white entertainers in blackface.
District officials are looking into whether 59-year-old Alan Barron's lesson plan on African-American history and Jim Crow racial segregation laws was inappropriate.
The Monroe News
reports that Barron showed a video of how white people used blackface to imitate African Americans during what they considered entertainment in the 1800s. According to parents whose children are in the eighth-grade class, the administrator thought the lesson plan was offensive and racist.
Parent Adrienne Aaron, whose husband is African American, told The Monroe News her daughter was not offended and that she felt that the subject needs to be discussed.
"She was more offended that they stopped the video," Aaron said of her daughter. "It had nothing to do with racism. History is history. We need to educate our kids to see how far we've come in America. How is that racism?"
Many parents and students are supporting Barron, who is retiring at the end of this school year after 36 years in the classroom.
During his suspension, Mr. Barron is not allowed to attend district functions, including an annual banquet where retiring teachers are honored. " [Source]
So the
whitewashing
of America's history continues. Poor Mr. Barron was just trying to teach the children in his class the history of their country.
The man should have been given a teacher of the year award not suspended.
Finally speaking of history, if you are not up on the story of the
Tulsa Riots
and what happened to
Black Wall Street
, today might be a good day to read up on it.
Today is the 93rd anniversary of that sad event.