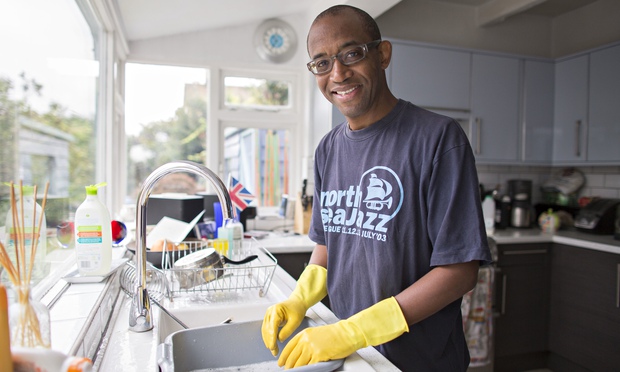 For those of you who don't know your history, please understand that the Negro slave in Louisiana suffered just as much (if not more) than the slave in places like Alabama and Mississippi who were picking cotton. I know that there is this misconception that they were treated better because of the
French codes
which originally governed their owners and such, but don't believe it. Planting that sugar cane in the brutal Louisiana heat and humidity was
no joke
.
Anywhoo, I am saying all this to explain what I have been going through for the past couple of days.
That not unlike this poor brother in the pic above, I have been put on some serious housework detail.
You see, my lovely wife happens to be from the aforementioned
Louisiana
, and she takes this
honey do
list thing to a whole different level. She happens to be a descendant of those Louisiana slaves, and girlfriend is no joke when it comes to putting in hard work.
We happen to be preparing for guests for the 4th of July holiday, and it's time to get
chez
Field in order. I ask her why we can't just pay people to come in and get things in order, but she is having none of it.
"See Wayne, that's your problem, you grew up with helpers all around you like the Fresh Prince, so you don't appreciate the importance of hard work". Putting on a suit and talking all day is not hard work."
First of all, not true. The Mrs. visited my family in Jamaica when we were still dating and she remembers our helpers around the house who waited on her hand and foot. But if you understand anything about Third World life and living in Jamaica, you know that having helpers around the home is not a big deal. Most folks living even a middle class existence in Jamaica can afford to have a helper because help is so cheap.
The poor Mrs. mistook me for someone raised in a life of privilege, and it has been ingrained in her way of thinking ever since. Now, as a result, she has been determined to break me like
Master Waller
did Toby.
"Sorry Wayne, I grew up with hard work. My parents expected us to work, just because we can afford to get help doesn't mean that it's good for us."
Ok I admit that I am from the
Maroon stock
, and if we are going to be honest, my ancestors would have rather fought than work on the plantation.
Not Mrs. Field, girlfriend is from a long line of hard working Louisiana folks, and her ancestors worked on those sugar plantations.
"I sure hope your little man cave is clean, I am going to do a full inspection later."
So a couple of hours later she is going all
Full Metal Jacket
on me and giving me the Sergeant Hartman treatment. "
Boy you call this clean? Give me that duster."
The only thing worse than doing all this work around the house is failing at it and having to watch Drill Sergeant Field work me over like a new recruit.
"Hey honey, can you get some mulch out of the garage and put it in the flower bed under the tree out front?"
This is not good.
But then, like a gift from above, one of my boys must have felt what I was going through and comes to my rescue.
"I hear your cell phone? Tell your boys no tennis today; you have work to do."
Nobody knows the trouble I've seen Nobody knows my sorrow....
*The pic with this post is from theguardian.com, and it is another poor brother (not the Field) putting in work. Under the watchful eye, I am sure, of a similarly terrifying boss.
**Photo by
Graeme Robertson