I see that George Killerman is behind bars
once again
.
(Calling Mark O'Mara)
This time for threatening his pregnant girlfriend
(not his wife)
with a shotgun.
Those of us who believed all along that he shot Trayvon Martin in cold blood feel somewhat vindicated tonight, but we are all sick to the stomach knowing that this sociopath was able to conceal his inner demons long enough to get away with murder.
Although we are now learning that he might have
had some help
along the way.
Anyway, clearly this dude doesn't like women and children, and if and when he gets back on the street law enforcement better keep an eye on him.
"She was concerned for her safety, certainly from having the weapon pointed at her," Lemma said.
According to an arrest report released late Monday, Schibe called police after she and Zimmerman got into a "verbal dispute," at her home on Topfield Court in western Seminole County. She asked Zimmerman to leave, and he "began packing his items, which included a Shotgun and a AR Assault Rifle," the report said.
When Scheibe told Zimmerman that she was calling the police, he pointed the shotgun at her "and asked her if she really wanted to do that," according to the report." [Source]
I sure hope that George isn't comfortable in his cell tonight. Hopefully they don't put him in isolation. In fact, I think he needs a
celly,
and not just any
celly
if you know what I mean.
Still, he will make bail soon, his wingnut friends and the folks over at FOX will make sure of that.
Finally, speaking of law enforcement, folks in the majority population still have a hard time understanding why black folks view those charged with serving and protecting us with such suspicion. But there is a reason for that.
I give you two recent examples of the type of behavior from some in the law enforcement community towards us black folks which makes it hard for us to view them in a positive light.
The first is from the affluent suburb of Grosse Point, Michigan.
"Cops in an affluent Detroit suburb allegedly humiliated black men, recorded the acts and passed the videos among friends and relatives, according to reports.
The footage, posted by the
news blog Motor City Muckraker
, was reportedly shot by officers who ordered men to sing or "dance like a chimp."
"Go ahead, do your song," a man identified as Grosse Pointe Park police Officer Mike Njam says in one video.
The police department is now investigating the videos and a photo obtained through a confidential source by the blog.
The department has begun an internal investigation of this matter," police wrote in
an email to the Huffington Post
. "The Grosse Pointe Park Public Safety Department does not tolerate unprofessional conduct by its officers when interacting with any citizen they may come in contact with."
A photo, also attributed to Njam, shows a black man riding in the back of a trailer. A caption below reads, "Got to love the coloreds." [Source]
The other one is from the very middle class suburban town of Tullytown, Pennsylvania.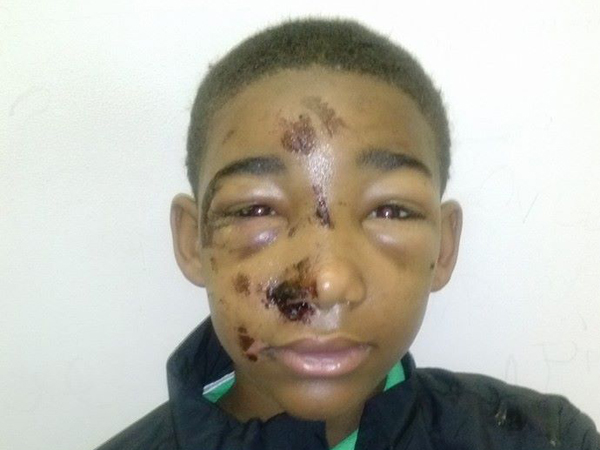 "TULLYTOWN, Pa. (CBS) — A Bucks County woman was preparing to meet today with an attorney in Philadelphia amid allegations that her 14-year-old son was beaten by Tullytown, Pa. police officers after a shoplifting arrest last week.
Marissa Sargeant says her son's swollen and bloody face was the result of a brutal beating at the hands of officers who arrested her son at a Walmart last Tuesday.
The picture of her son was posted to Facebook, and over the weekend had been shared more than 40,000 times by supporters demanding justice and calling it a case of police brutality.
But law enforcement tells a different story. Bucks County DA David Heckler told KYW Newsradio today he has no reason to believe police acted inappropriately, saying that according to police, the teen broke free and was running away when he was Tasered.
Heckler says it appears the teen was struck in the face and then fell forward onto the pavement."
[Source]
Riiiight.
Man that "pavement" sure packs a hell of a punch. Just look at those two black eyes.
I wonder if it's the same "pavement" that posed
such a threat
to George Zimmerman.