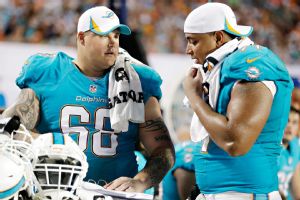 Man this Incognito Miami Dolphins story will not go away. It seems that everyone has their two cents worth on this ever evolving story.
Now here comes former coach, Bill Parcells,
to defend
Incognito's behavior.
"Bill Parcells reportedly says
Richie Incognito
was "a model citizen" when the Hall of Famer brought him to Miami, questions whether
Jonathan Martin
really wanted to play football and cautions that outsiders can't understand the NFL locker room environment but "it works."
Clearly this type of behavior doesn't work if Incognito was kicked off multiple teams because of his behavior in the locker room.
Anyway, this is the type of reaction I would expect from Parcells who was somewhat of a bully himself.
The best take on this story comes from a guy who I am not fan of, but who, from time to time, will make a good point.
While I don't quite agree with the NFL locker room prison analogy, and as bad as Richie Incognito was he is no George Wallace, I think that Jason Whitlock's take on this sad episode is required reading for all.
"Mass incarceration has turned segments of Black America so upside down that a tatted-up, N-word-tossing white goon is more respected and accepted than a soft-spoken, highly intelligent black Stanford graduate.
According to a story in the Miami Herald, black Dolphins players granted
Richie Incognito
"honorary" status as a black man while feeling little connection to
Jonathan Martin
.
Welcome to Incarceration Nation, where the mindset of the
Miami Dolphins
' locker room mirrors the mentality of a maximum-security prison yard and where a wide swath of America believes the nonviolent intellectual needs to adopt the tactics of the barbarian.
I don't blame Jonathan Martin for walking away from the Dolphins and checking himself into a hospital seeking treatment for emotional distress. The cesspool of insanity that apparently is the Miami locker room would test the mental stability of any sane man. Martin, the offspring of Harvard grads, a 24-year-old trained at some of America's finest academic institutions, is a first-time offender callously thrown into an Attica prison cell with Incognito and
Aaron Hernandez
's BFF
Mike Pouncey
. Dolphins warden Jeff Ireland and deputy warden Joe Philbin put zero sophisticated thought into what they were doing when they drafted Martin in the second round in 2012.
You don't put Jonathan Martin in a cell with Incognito and Pouncey. You draft someone else, and let another team take Martin. The Dolphins don't have the kind of environment to support someone with Martin's background. It takes intelligence and common sense to connect with and manage Martin. Those attributes appear to be in short supply in Miami.
"Richie is honorary," a black former Dolphins player told Miami Herald reporter Armando Salguero. "I don't expect you to understand because you're not black. But being a black guy, being a brother is more than just about skin color. It's about how you carry yourself. How you play. Where you come from. What you've experienced. A lot of things."
I'm black. And I totally understand the genesis of this particular brand of stupidity and self-hatred. Mass Incarceration, its bastard child,
Hurricane Illegitimacy
, and their marketing firm, commercial hip-hop music, have created a culture that perpetrates the idea that authentic blackness is criminal, savage, uneducated and irresponsible. The tenets of white supremacy and bigotry have been injected into popular youth culture. The blackest things a black man can do are loudly spew the N-word publicly and react violently to the slightest sign of disrespect or disagreement.
Yeah, Richie Incognito is an honorary black. And Jonathan Martin is a sellout.
"I don't have a problem with Richie," Dolphins receiver
Mike Wallace
was quoted in Salguero's story. "I love Richie."
Yeah, the Dolphins are circling the wagons around Incognito. I get
Ryan Tannehill
's defense of his Pro Bowl left guard. He needs him. He doesn't believe the Dolphins can protect him or win games without Incognito. There's a popular belief you can't consistently win football games without a few "thugs" like Incognito in your locker room. Makes you wonder how Stanford competes with USC, Oregon, UCLA, etc., every year. You wonder how Nebraska and Oregon survived after booting Incognito. You wonder why three NFL teams let him go. Maybe he's not as essential as the myth-makers would have you believe.
But what makes me want to check into a mental hospital is Miami's black players' unconditional love of Incognito and indifference to Martin.
It points to our fundamental lack of knowledge of our own history in this country. We think the fake tough guy, the ex-con turned rhetoric spewer was more courageous than the educated pacifist who won our liberation standing in the streets, absorbing repeated ass-whippings, jail and a white assassin's bullet. We fell for the okeydoke.
We think Malcolm X was blacker than Martin Luther King Jr.
I'm as guilty as anybody. I've read X's autobiography a half-dozen times. I own Spike Lee's movie about X and watch it a couple of times a year. I love Malcolm X. But I'm not an idiot. MLK liberated me. MLK blazed the proper path to respect, progress and achievement. Barack Obama stands on MLK's shoulders. And so does Jonathan Martin."
Richie Incognito is an "honorary" bigot, standing on the shoulders of Gov. George Wallace. The fact that a group of young black men in the Dolphins' locker room can't see that speaks to the level of ignorance unleashed by Mass Incarceration, Hurricane Illegitimacy and commercial hip-hop." [More]
Well, MLK
AND
Malcolm X liberated you, but I get the point.
The Dolphins players are not school teachers, they are football players, so I don't expect them to be as sophisticated about this issue as the author. But I
do
expect them to have a certain amount of knowledge about the culture and the society in which they live, and it's about time some of these brothers start learning to embrace that which is good and not being benighted and ignorant all of their lives.
Mr. Whitlock, your article (this time) was spot on. It was written for
ESPN
, so hopefully some of these brothers in the NFL will log on to read instead of watching just for their highlights.