It is not one of his classic
skyhooks
; it's actually better.
"Former NBA star Kareem Abdul-Jabbar stopped by Morning Joe on Monday, presumably to promote his new children's book,
Stealing the Game
, but the hosts also asked him to discuss a
recent column
he wrote for Time about the role that Islam does or does not play in terror attacks like the one against Charlie Hebdo.
"Another horrendous act of terrorism has taken place and people like myself who are on media speed-dial under 'Celebrity Muslims' are thrust in the spotlight to angrily condemn, disavow, and explain—again—how these barbaric acts are in no way related to Islam," Abdul-Jabbar, who converted to Islam in the late 1960s, wrote last month.
Asked by Mika Brzezinski to explain what he believes is behind the actions of a group like ISIS, he said, "It's a play for money and power, and these people try to impose their will on people so people will listen to them, and they can be in charge. That's all it's about. They've taken on a fascist attitude and a fascist approach to everything. You do what we say or you die."
"You can make parallels to things that have happened here in America. Like the Ku Klux Klan saying they are the Christian knights," Abdul-Jabbar added later. "And they do not practice Christianity."
Like President Barack Obama, who
drew parallels
between what we are seeing with Muslim extremism today and what the world saw during the Christian Crusades, Abdul-Jabbar went on to reference those centuries-old events to make the point that people have always used religion "as an excuse" to commit horrendous violence.
"It's not an excuse, it's no excuse and oppressing one group means that we have to look out, all groups have to get together to fight that type of oppression, because we all should be free," he said." [Source]
Speaking of the Klan, it's nice to see that there might be some justice for some of the people who were lynched at the Moore's Ford Bridge in Georgia.
"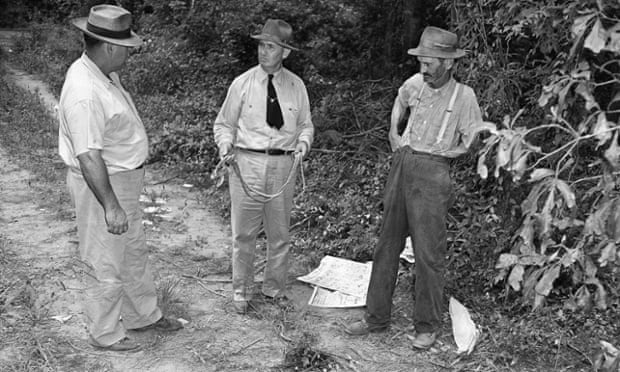 US authorities are investigating whether some of those responsible for one of the American south's most notorious mass lynchings are still alive, in an attempt to finally bring prosecutions over the brutal unsolved killings.
FBI
agents have questioned a man in Georgia about the Moore's Ford Bridge lynching of 1946, the man told the Guardian. The man was among several in their 80s and 90s named in connection with the incident on a list given to the US Department of Justice by civil rights activists.
Speaking at his home in Monroe, 10 miles west of the lynching site, Charlie Peppers denied taking part in the killings of four African Americans who were tied up and shot 60 times by a white mob.
"Heck no," said Peppers, 86, when asked if he was involved. "Back when all that happened, I didn't even know where Moore's Ford was." Peppers, who was 18 at the time of the lynching, said: "The blacks are blaming people that didn't even know what happened back then." [Source]
You are right sir, but "The blacks" will not stop until there is justice.
"Peppers was accused of being involved by his nephew, Wayne Watson. Video of Watson, 57, claiming in 2013 that Peppers and several other men from the area had spoken of their involvement in the killings was given to the US Department of Justice by the National Association for the Advancement of Colored People (NAACP).
"All through my life, I heard them talk about the Moore's Ford and the lynching," said Watson, in an April 2013 interview. "I'm tired of it, when you go through life, and you're living with lies."
Watson alleged that several of the men he named were Klan members. When asked this week Peppers denied he is or ever was a member of the Ku Klux Klan."
Riiight.
Sorry, I am a little cynical when it comes to older Southern white males these days. Stories like
this one
helped to make me this way.