A couple of republican governors are on my mind tonight.
The first one is the governor right across the bridge from me in New Jersey.
He might want to reconsider that run for president as he seems to have some bigger issues right now.
"Federal law enforcement officials have launched a criminal investigation of New Jersey Gov. Chris Christie and members of his administration, pursuing allegations the governor and his staff broke the law when they quashed grand jury indictments against Christie supporters, International Business Times has learned.
Two criminal investigators from the U.S. Department of Justice on Wednesday interviewed the man who leveled those charges, Bennett Barlyn. He was fired from the Hunterdon County prosecutor's office in August 2010, and subsequently brought a whistleblower lawsuit against the Christie administration, claiming he had been punished for objecting to the dismissal of the indictments of the governor's supporters for a range of corrupt activities.
Barlyn told IBTimes that he met with the federal investigators at his Pennsylvania home for more than an hour on Wednesday afternoon. He said they specifically focused on why Christie's then-attorney general, Paula Dow, had moved to expunge the indictments. The investigators are examining what state and federal laws may have been broken in the process. Barlyn said the investigators appeared to be at an exploratory stage, with no certainty that criminal charges would ultimately be filed. The meeting followed a June letter to Barlyn from New Jersey's U.S. Attorney, Paul Fishman, instructing Barlyn to be in touch with his office's investigative team about the case.
The New Jersey U.S. Attorney's office declined to comment. Christie has denied any involvement in Barlyn's termination, while maintaining that he does not even know the men and women he has been accused of aiding. The governor's office did not respond to a request for comment.
The case centers on rural Hunterdon County, a sparsely populated patch of New Jersey along the Delaware River. There, Barlyn claims, then-county Sheriff Deborah Trout ran her office like a private fiefdom, hiring her friends without respect to their experience, and without initiating proper background checks as mandated by state law.
Barlyn's office began probing Trout in 2008, eventually convening a grand jury that returned 43 indictments against her, Undersheriff Michael Russo and investigator John Falat Jr. The Christie administration then intervened, took over the prosecution and -- in an extraordinary step -- moved to have the grand jury indictments overturned, saying they were legally and factually deficient. When Barlyn raised objections, he was fired.
The expunging of those indictments, Barlyn's termination and his allegations that Christie's administration quashed the case to protect the governor's supporters were first aired in
a lengthy story in the New York Times
in 2013. Several members of the grand jury told the Times that the evidence supporting the indictments was strong, and that overturning them seemed motivated by political considerations."
[Source]
It seemed like only yesterday we were talking about
Bridgegate,
The other governor comes from one of my favorite states, Louisiana.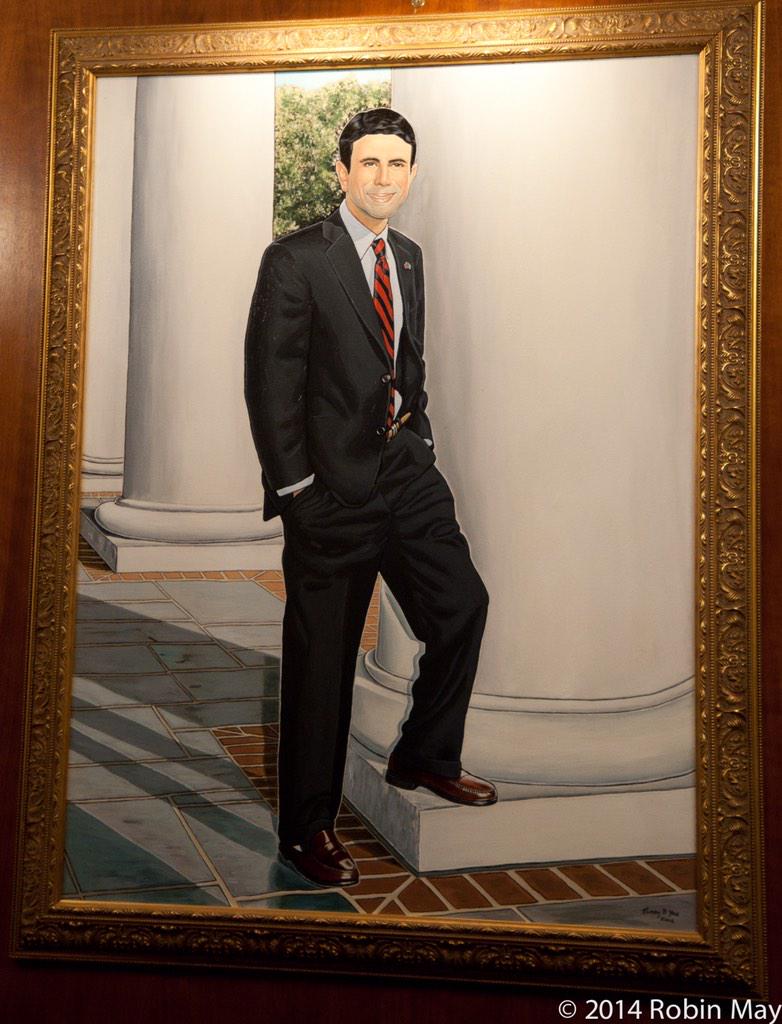 I must admit that when I first heard the story about
Bobby Jindal's portrait
I was ready to trash the man for the incredible amount of self-hate that he seems to have stored up.
I mean who would go out of his way to have a portrait of himself done in such away if he didn't wish he looked different than he does?
Well, as it turns out, someone gave the governor the portrait as a gift.
(Or so he says)
And according to
his office
his official portrait is much closer to his....well.....Indian roots.
I suppose this portrait says more about the people of Louisiana than it does their governor. I suspect that this is how some of them want him to look.
Poor Bobby. If only he really looked this way, we might be calling him President Jindal.
But, alas, he does not.
Sadly, what you get is a man who is confused about who he
really
is. And a man who went as far as changing
his religion
to appeal to a very white, very Christian, GOP base.
"The man born "Piyush" who adopted the name "Bobby" as a child has been
taken to task by fellow Indian-Americans
for forgetting his ethnic and religious roots. And he's come under
heavy fire for refusing to back down from claims
that in the West, "non-assimilationist Muslims establish enclaves and carry out as much of Sharia law as they can."
An
MSNBC contributor was banned
from the network after claiming Jindal was "trying to scrub some of the brown off his skin."
Jindal has defended his personal decisions by citing his parents' own immigration story from India.
"My dad and mom told my brother and me that we came to America to be Americans," he said in
a speech last month in London.
"I do not believe in hyphenated Americans."
Whatever, Piyush.
*Christie pic from dailypaul.com