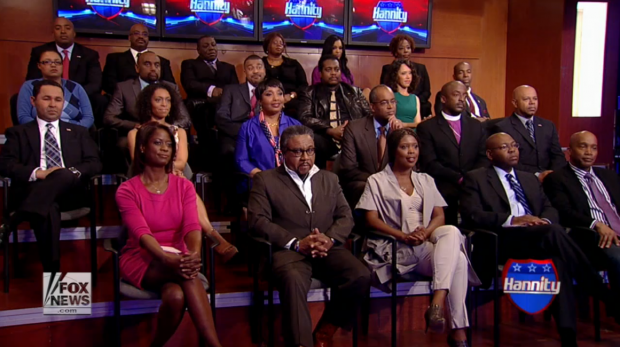 I know it doesn't seem like it, but I really don't have a problem with some of these Negro conservatives out here. They do and say some
really dumb things
, but I always try to give them the benefit of the doubt and assume that they have the best interest of our race at heart, although they might have a different philosophy about how we should get there.
I feel compelled to write this post and clarify my position about the black conservative because of some statements made by one
Star Parker
.
(Middle of the front row.)
Ms. Parker said today that president Obama
"verbally raped"
her because of comments he made about Christians.
Wait, let me think about that for a minute.....
"Verbal rape."
First of all, Star, rape is a serious and brutal crime, to equate a speech by the president to someone being raped is, quite frankly, beyond the pale. But apparently when you are a female on FOX VIEWS rape is not that big
of a deal.
"Let me put in context, then. Because I was in that room. And it was, frankly, verbal rape. Oh yeah. We were not expecting it. Nobody wanted it. It was horrible to sit through. And after it was over we all felt like crap."
[Source]
Star, you might need to start reprioritizing some things in your life.
Finally, I am sorry, but Brian Williams
embellishing things
about the Iraq war is the least of my concerns with that ill advised and tragic fiasco.
While I have issues with folks lying about things that our real war heroes had to go through; I have serious issues with all the people
who lied
to get us into that war,
and voted
to validate the lie. They should be the ones being publicly shamed and raked over the coals, not Brian Williams.
It's a little pathetic and sad when you see the hosts over at FOX VIEWS pontificating about this Williams story when that entire network was in essence a war propaganda station for W and his band of crooks.
If Williams doesn't survive this and people like Dick Cheney stay out of jail on war crimes charges, the world just isn't a fair place.
*Bush pic from MotherJones.