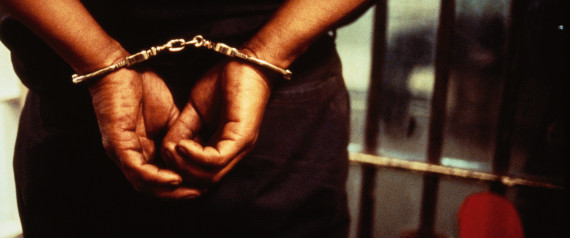 I just read a touching essay from a young man named
Wilbert L. Cooper.
Here it is:
'"The day you were born, there was a pine box and a prison cell built with your name on it."
Throughout my childhood and adolescence, my father said that to me countless times, especially just as I was walking out the door. The first time I remember hearing those words, I had to have been about six or seven; I was so young I didn't really understand what he meant. I had yet to grasp the burden that comes with being
young and black and male in America
. It just sounded scary, and after hearing it—given what little I understood about race at the time—I was left with the distinct feeling that I was cursed.
But that was dad's way. He always tried to speak to me like I was a little man. And not because he was on some cheap machismo trip or because he had a taste for the macabre—it was because he legitimately thought if I didn't understand this lesson early on, I might not make it to age 25.
The phrase
"dead or in jail"
loomed large over my adolescence, as I think it does for many young black men today. The
New York Times
estimates
that there are 1.5 million "prime age"
black men in America who are "missing" from society today, meaning they are either behind bars or pushing up daisies. How they got there is a confluence of the micro and the macro—individual choices and a game with incredibly high stakes that's been fixed against them from the start.
Allowing your child to play that game without understanding the rules is tantamount to leading them to slaughter. My parents understood this, not just as blacks who lived through the Civil Rights era but as retired police officers who saw the way race played out on streets and inside the municipal courts in the city of Cleveland.
The storied legacy of the premature death of black men (homicide is
still
our greatest killer,
according
to CDC data) has arguably been eclipsed by the mass incarceration of black nonviolent drug offenders. And although President Obama's administration has advanced
sentencing reforms
and
clemency
initiatives that will help reign in this injustice, we're going to be living with the fallout for generations.
Right now, blacks make up 12 percent of the population, but almost 60 percent of those doing time in state prison for drug-related offenses—and
according
to the Sentencing Project, these black prisoners are serving almost as much time for their drug offenses as whites are for actually violent crimes.
That is the great equalizer of the black American experience, whether you grow up in the whitest suburbs like I did or in the grimiest ghettos: Interacting with police is fraught with peril and inequity. Despite my familial connections to law enforcement—two of my great-uncles, both my parents, my uncle, and my sister have all served or are serving on the force in Cleveland—I know that sick scenes like the unnecessary arrest of Prairie View A&M grad
Sandra Bland
, who died in custody, or the
brutal treatment
of black teens at Craig Ranch North Community Pool in McKinney, Texas, earlier this summer are not exceptions to the rule. They are the norm—indignities etched into the everyday experience of being black in America. And even I—with my white friends and my media job and my master's degree in publishing—can still get caught up in that when I get stopped by the cops. Although we live in a country with an unhealthy obsession with status and wealth, whether you're in a Pinto or a Porsche, wearing a hoodie or Helmut Lang, when the law comes down on you, you're
still a nigger
.
I think that's why the last few years have been so terrifying for me as I've seen the names cycle through from Trayvon Martin to Kimani Gray to Victor White to Eric Garner to Michael Brown to Tamir Rice to Walter Scott to Freddie Gray to Samuel DuBose. I know that no matter how well I play the game, no matter how cognizant I am of the rules, it could happen to me. I think about it when I walk past the police station at the end of my block in Brooklyn. I ask myself: Is today going to be the day they are going to fuck with me? And if so, what will I do? Every time a new video shot on police cameras and bystander's cell phones emerges with yet another black life being smothered across the screen, I feel myself getting one step closer to a kind of nihilism about this country and my place in it.
I can relate to the blinding, hot rage I've seen swallow up so many other brothers of my generation, from the pain they foolishly
inflict against one another
because their arms can't reach the system to the pain they inflict upon themselves because they are trying to escape the realities of the everyday.
It's in those fits of anger that I wonder,
Were we always destined to live and die this way, like savages in the street or alone in cold cells? And if this is it, why did our parents have us at all? Why bring us into this world where our lives are short and wracked with pain?" [Read more]
Powerful and sad words. You have to feel for some of these young brothers out here.
But give the author credit, he understands that his reality is not like that of a "typical American". And he also understands that no matter what he accomplishes in life he will still be treated and viewed differently by
certain people
in America.
Because of what I do for a living I have been to countless prisons in my life, and I have to tell you that it's always a sad and depressing experience. While you know that some of the people you see there deserve to be right where they are, you also know that a
large percentage
of them should have been back in society a long time ago, or worse, should not have been in there in the first place.
But we can't give up. We have to encourage these young men of color to hit their books, get their priorities right, and respect their families and their communities.
There will always be injustice and prejudice in the world, but we can't let them use it as an excuse not to thrive. We just have to do our best to minimize it and make sure that those who practice it are called out when they do.