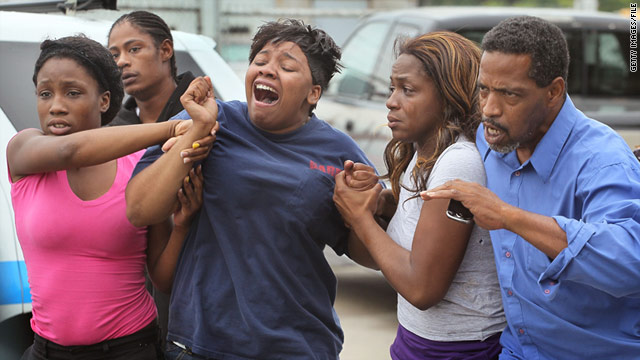 It's sad that I have to write about the non- stop carnage that continues on our city streets.
Here in Philly we have had
four murders
over the past 24 hours. It seems like professional ball players, heart surgeons, and homicide detectives are the highest paid folks in our city these days.
It's gotten so bad in cities all across America, that our Mayor is calling for a domestic security agency" to fight the madness. Yep, desperate times call for desperate measures. Just look at the faces of those folks in the picture after a loved one was killed in Chi-town.
"Speaking alongside New Orleans Mayor Mitch Landrieu on Thursday at the National Press Club in Washington, D.C., Nutter said the United States needs to take domestic violence as seriously as terrorism.
"What if our response to domestic terrorism is as thorough and as engaged as our response to international terrorism," he asked.
Nutter said the 2,977 victims of 9/11 brought numerous changes, including creation of the Department of Homeland Security, and that 14,827 murders across last year merit a Domestic Security Agency.
"From the 9/11 Commission we created the TSA, the Transportation Safety Administration. Well maybe now we need the WASA, the Walking Around Safety Administration," Nutter said. "This is serious, because we have a violence problem in America."
[Source]
And it's not only those people in urban America who need to worry about catching a bullet. Unless you have been living under a rock you know that there is no place in Amurderca that's safe from
violence
and
mayhem
. We are all potential victims.
Finally, speaking of murder, I see that the wife of a certain killer from South Florida has her doubts about his innocence. (Welcome to my world, Shellie.)
"In the midst of divorce proceedings against husband George Zimmerman, Shellie Zimmerman said she has doubts about what really happened in the shooting death of Florida teen Trayvon Martin last year, she told Matt Lauer in an exclusive interview.
"I'm conflicted on that,'' Shellie told Lauer on TODAY Thursday. "I believe the evidence, but this revelation in my life has really helped me take the blinders off and start to see things differently."
Lauer pressed further, asking, "So you now doubt his innocence, at least the fact that he was acting in self-defense on the night that Trayvon Martin was killed?"
"I think anyone would doubt that innocence because I don't know the person that I've been married to," Shellie responded. "I have doubts, but I also believe the evidence."
Despite these doubts, Shellie vehemently denies that George profiled the teen.
"He did not profile Trayvon Martin," she said.
The "revelation" Shellie referenced came after a domestic dispute between the Zimmermans.
On Sept. 9, authorities in Lake Mary, Fla., were summoned to the house the couple once rented from Shellie's father, after she called 911 to report George was threatening her with a gun,
according to police reports
, which provide a conflicting picture of the sequence of events. Neither side filed a complaint over the incident, and Shellie said that she now wishes she had pressed charges.
"In hindsight I should've, and I really regret that, but I'm on probation and the officers made it very clear that day if I pressed charges we were all going to go to jail and I would've been the only one to stay there,'' she told Lauer.
TODAY reached out to George Zimmerman's representatives, and they said they were not interested in commenting.
[Source]
No comments needed. We have heard enough.