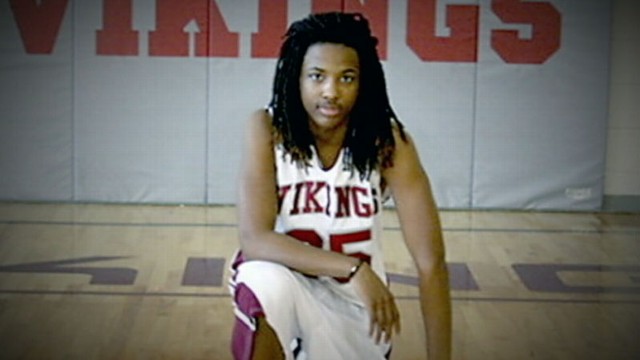 From the "things that makes you go hmmm" department comes
this case
out of Georgia. I have been watching it for some time now, and I see that the parents of the young man,
Kendrick Johnson
, had a second autopsy which shows that he died of "blunt force trauma".
Now before you start saying that I am racism chasing
on this one
, I am not, as it is very likely the parties responsible for any fowl play (if there was fowl play) are black. He did, after all, attend a predominantly black school.
Still, whenever a young black male dies in the South (or anywhere for that matter), and law enforcement agencies are asked to investigate, I will ways view their actions with the fuzzy eyeball. Because I, like others like me, understands how
we are viewed
here in America.
"This week, another autopsy was released of 17-year-old Kendrick Johnson who was found dead in his school's gym. The autopsy indicates that Johnson was actually murdered, according to the
Valdosta Daily Times
.
Johnson's body was found inside a rolled-up wrestling mat in Lowndes High School's old gymnasium in January. An initial report by the Lowndes County Sheriff's Office said the youth reached for a loose shoe that fell in to the center of the mat. He then became trapped in the mat, which was propped upright behind bleachers, and died from being upside down for an extended period. Officials also said he was alone at the time.
On the same day he was found, the state concluded his death was accidental; however, Johnson's family refuted the reports, noting his bloated head and face during the first autopsy.
They believed he was murdered.
In June, they placed a successful court order to have Johnson's body exhumed from a cemetery and re-examined by an independent pathologist....
Despite receiving a copy of the findings, however, Lowndes County Coroner Bill Watson said he stands by the original autopsy.
According to Watson, Johnson died from "unexplained," non-accidental blunt force trauma, which was caused by asphyxia." [Source]
Now I see where some house Negro commenting in
News One
is proclaiming that this is just a case of a family trying to hit the "ghetto lottery". That is a truly ignorant and inconsiderate comment from someone trolling the web with serious self-hate issues. Why couldn't it be just a case of a family grieving for their son and wanting answers?
The irony is, of course, that the same house Negroes screaming that this is a case of black folks trying to get paid, would be on the Internet as I write this, saying what a tragedy this story was if it was a child from the majority population who died in such a manner. But such is the mind of the house Negro: Still trapped in mental slavery.
Finally, some of you suburban kids need to start listening to Jay- Z .
"I don't pop molly, I rock Tom Ford"
Mollies are not a good look for you, and, they can actually kill you.
"Rave drug molly is being blamed for the death of a gifted University of Virginia student who suffered an overdose at a Washington, D.C., club last week.
Shelley Goldsmith, 19, a sophomore on scholarship at the prestigious school, took a lethal dose of the designer drug before collapsing at a rave at the club Echostage after midnight on Aug. 31, police sources told
The Washington Post.
She was pronounced dead later at a local hospital."
[Source]
Why just the other day they had to shut down a concert in New York because some of the concert goers died of a
molly overdose.
You young white kids need to stay away from this stuff, it's dangerous. And remember ecstasy boys and girls? Well it's pretty much the same thing, just more powerful.
Two tragic deaths for two young Americans. We know how one died; we are waiting to see what happened to the other one.